MLC Phones
Grandstream GXP2130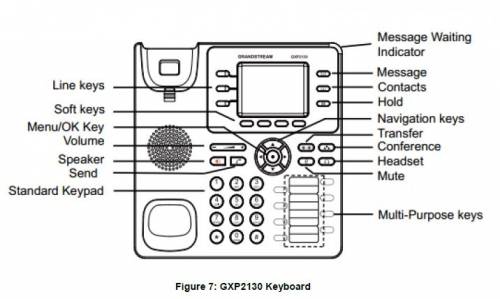 Line keys

Soft keys

Menu/OK key

Unordered List Item displays menu of information such as call history, status, contacts, etc.

Speaker

Volume

Send

Message Waiting

Message

Contacts

Hold

Navigation keys

Transfer

Conference

Headset

Mute

Mute your speaker, handset or headset

If pressed when you are not in a call, this places your phone in the 'do not disturb' mode and sends all call immediately to voicemail

Multi-Purpose keys

These keys have been preprogrammed as call appearance buttons or busy lamp field (BLF) for office groups allowing you to pick up calls for each other. They are unprogrammed for indidividuals.

On classroom phones they have been pre-programmed as speed dial buttons for Network Services, HR, Nurse, etc.
voip-phones/phone.txt · Last modified: 2018/07/31 17:40 by Spike, Aaron C