network-services:faculty-staff-resource:surface-pro-4
Table of Contents
Surface Pro 4
The Microsoft Surface Pro 4 is the main faculty/staff laptop/tablet used on campus provided by Martin Luther College. It was deployed in Summer 2016. This page is meant to capture some of the tips, tricks, and information regarding your usage of the device.
Introduction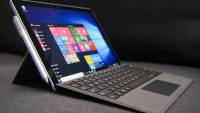 Additional Sessions
Questions & Answers
How can I play DVDs?
There is no built-in DVD player in the Surface Pro 4, but adding the ability to play CDs and DVDs is easy by utilizing an external DVD drive. Walmart and Amazon have many options available for a reasonable price if you have the need. Here are a list of a few (current as of May 3, 2016):
These drives are small enough to be slipped into a case and carried to the classroom as well. There are more than enough USB ports both in the classroom and in your office to accommodate an external DVD drive when needed.
Some external DVD drives will also be available to check out from Network Services.
How can I power my Surface while in the classroom?
The Surface Dock at your office desk provides power along with all of the additional port options. You do not need to use your power adapter in your office at any time (and, indeed, cannot because the Surface Dock uses the same port on your Surface).
The hope is that, for the vast majority of cases, the battery inside of the Surface Pro 4 will be sufficient to get through a class (or three) in most cases.
However, because power is provided by the Surface Dock in your office, you are encouraged to keep your power adapter with you while going to class or traveling. Network Services is going to work to provide ease of access in the classrooms to power strips so that plugging and unplugging power adapters will be easy enough to do. This will benefit the students and guests who will be presenting in the classrooms as well.
In the case that you feel there is a need for an additional power adapter, genuine Microsoft adapters can be purchased from Amazon or a 3rd party adapter can be purchased as well.
If you have questions, please feel free to talk with Network Services.
Can you recommend a case?
There are MANY cases available on sites like Amazon, but here are a few that might work for people:
How can I print?
We are continuing to use Micro Focus iPrint and PaperCut to manage our printers and print queues on campus. Three printers will be installed on all Surface devices one campus:
NS Konica 554e - black and white copier in Network Services

NS Konica C224e - color copier in Network Services

Print Shop Sharp M623N - black and white printer in Print Shop (defaults to holding print jobs)
You should also have the closest printer installed and set as the default for your machine. Often this is labeled similar to [Location] HP M602 or similar.
In order to successfully print, you need to be connected to the Academic Network. This can be accomplished in two ways:
connect to a wired Ethernet connection in your office (via your Surface Dock)

connect to the MLC Academic WLAN utilizing your MLC Account credentials
If you are not connected to the Academic Network, you will not be able to print successfully. As always, please contact Network Services with any questions. If you are connected to the MLC Guest WLAN, you will not be able to print at this time.
Can I use the MLC Academic WLAN?
In early May 2016 we switched the way that our wireless system handles wireless authentication. You should now be able to easily, and consistently, utilize the MLC Academic WLAN by selecting it from the list of wireless networks and inputting your MLC Account credentials (if prompted).
The first time you connect to the MLC Academic WLAN, you will be asked to accept the identity of the server. Do so. After that you should not be prompted until the next time we change the security of our RADIUS server on campus.
If you change your MLC Account password, you are going to need to follow the instructions found on the MLC Academic WLAN information page.
What happened to logging into Novell?
Historically, Martin Luther College has utilized the Novell Client for allowing access to files stored on our network file servers. However, that has now changed for mobile devices going forward.
We will now be utilizing Micro Focus Filr. This should give you equivalent, not identical, access as the Novell Client did in the past. You can find out more by visiting our Filr page here on the knowledge base. If you are concerned about anything, please contact Network Services.
However, if you want to be able to use the Novell Client, Network Services can install it for you.
It is recommended to install the Filr Desktop Application on your devices, and for the Surface Pro 4 you will want to install the Windows X64 Client.
network-services/faculty-staff-resource/surface-pro-4.txt · Last modified: 2018/07/30 17:39 (external edit)